RadioForge provide API that Share Shoutcast / Icecast Radio Now Playing Metadata (Artist – Title) to Twitter & Facebook. Users just need to subscribe API or upload a simple script to their own server.
SHOUTcast / Icecast Radio Auto Poster allows to post own custom #HashTags #ListenNow #NowPlaying on scheduled TIME to Twitter & Facebook.
► #NowPlaying ♪♪♪ Richard Strange & The Engine Room – Love Scare #SundayMorning https://t.co/McQ8KMCuSU

— HTML5MP3Player (@HTML5MP3Player) January 8, 2017
You need a valid Twitter account. Setup an application & generate API keys from https://apps.twitter.com/apps/new
Script Requirement
– Shoutcast / Icecast server port is open on your web hosting firewall
– PHP Curl and Socket functions are enable
"HTML5 MP3 Radio FM Player" allows users to play radio stream with current playing song metadata, but some time player on Shared Hosting Server don't allow Icecast / Shoutcast Server port to read shoutcast / icecast current playing song information.
Users on Share Web Host could not allow/open Radio Server port to web server firewall as outgoing port to read shoutcast / icecast current playing song information…
You can subscribe to our API get all Metadata for Icecast / Shoutcast Servers its $5 / month per stream🙂
Demo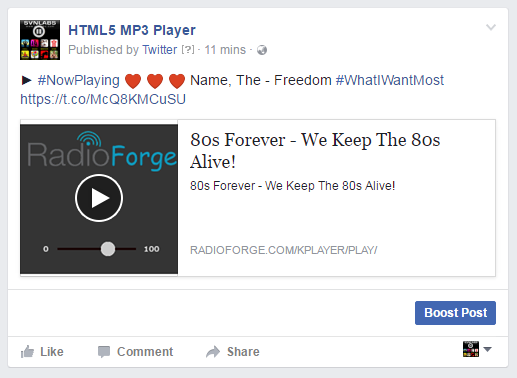 ► #NowPlaying ♪♪♪ Dil Dhadakne Do (2015) – Pehli Baar [ryT]

— HTML5MP3Player (@HTML5MP3Player) January 6, 2017
♬ #NowPlaying ♪ ♪ Yeh Jawaani Hai Deewani – 2013 – Balam Pichkari

— HTML5MP3Player (@HTML5MP3Player) January 6, 2017